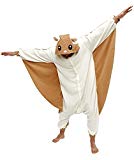 Flying Squirrel Kigurumi - Adult Costume
Material: Fleece (100% polyester). All of our kigurumi costumes are machine washable and can stand repeated cleanings without losing their shape. 100% Original from Sazac the creator of Kigurumi in Japan. Machine washable High quality fiber used in manufacture. Buy from Global Deals Today to be assured of getting an authentic Sazac K...
Description
Whether gliding through tree tops or hanging out on solid ground, this Flying Squirrel Kigurumi is pure win. This costume features a white belly, brown back, cute little ears and WINGS! (Wikipedia calls them patagium, but I say they're wings.) You'll fly to the heights of good times when you sport this stunning display of mammalian ingenuity. The best part: it doubles as pajamas!