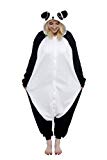 Panda Kigurumi (Adult)
Material: Fleece (100% polyester). Imported All of our kigurumi costumes are machine washable and can stand repeated cleanings without losing their shape. 100% Original from Sazac the creator of Kigurumi in Japan. (NEW) Machine washable High quality fiber used in manufacture. Adults Kigurumi are One-Size-Fits-All. They are...
Description
Chewing the bamboo about what to wear out tonight? The Panda Kigurumi not only looks fluffy, but its black and white fleecy body will keep you feeling warm and cozy as you impress your friends. Or even if you're just spending the night lounging at home, the pajama possibilities are endless! This clever costume is ideal for the cuddly animal inside us all!