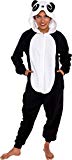 Slim Fit Animal Pajamas - Adult One Piece Cosplay Panda Costume by Silver Lilly (Black / White, X-Large)
Each pajama set is cut to fit close to the body for a sleek silhouette that lets you move around with ease. Perfect for everything from lounging around at home to bar crawls and music festivals!
Description
Be the life of the party!
If you're looking for an incredibly fun way to be the life of the party, look no further than a Silver Lilly Slim Fit Animal Costume! Each full-length bodysuit is unique and full of character, sure to be a hit everywhere you wear it.
Perfect for every occasion
These onesies aren't just for costume parties either! Music festivals are a great place for onesies, allowing you to dress up and still be comfortable, and you can't go wrong rocking a onesie during a night out on the town. Throw it on whenever the mood strikes - don't be afraid to show off your wild side!
Supreme comfort, all day long
Crafted from an ultra-luxe, easy-to-wash polyester, these onesies are unbelievably soft, surrounding you in ultimate comfort no matter where you wear it.
BRING OUT YOUR WILD SIDE - From lovingly stitched face details on the hood, to wings, tails and beyond, these eye-catching costumes feature the perfect amount of detail to let you fully embrace the beast within. Pair your one-piece with a set of animal slippers, and you'll be the star of your next sleepover!
WARM & COZY - A perfect blend of comfort and fun, the high-quality plush construction is soft and cozy, to keep you warm during chilly winter evenings.
CONVENIENT ZIPPER CLOSURE - The Silver Lilly Animal Pajamas feature a zip front closure, which makes getting in and out of your costume as easy as can be. Both side pockets also zip fully closed, to keep everything in your pockets safe and secure. Play away without worrying about your phone or keys!
SIZING AND CARE INSTRUCTIONS - Take good care of your new pajamas to prevent fading! We recommend our slim fit costumes be hand washed and laid flat to dry. Available in sizes Small through X-Large, see size chart for details.